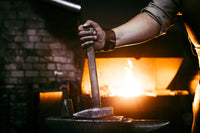 I KNOW THAT I LOVE MY JOB EVERY DAY!
When you make a knife, you have to talk to it. And it is important to listen to what he says to you. Then there is a chance that you are doing a really real Knife!
I invent and make knives with my own character. A style based on ancient traditions of craftsmanship and secrets of blacksmiths from the past!
George WAUGH, founder of IRON LUCKY workshop.
REVIEWS ABOUT US!
AVAILABLE FOR PURCHASE NOW
OUR NEWS IN THE INSTAGRAM